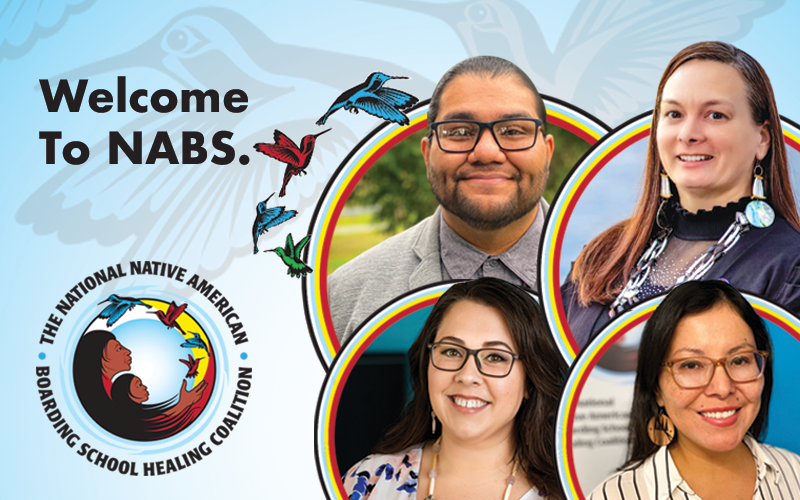 The National Native American Boarding School Healing Coalition (NABS) is thrilled to announce the hiring this month of four additional staff members to advance our work for truth, justice, and healing from Indian boarding schools. Following the recent appointment of Deborah Parker, tsicyaltsa, (Tulalip Tribes) to Chief Executive Officer, and Samuel Torres (Mexica/Nahua) to Deputy Chief Executive Officer, NABS's new executive leadership is eager to expand the reach and depth of the Coalition's work with the announcement of these critical additions to the team.
Kenrick Escalanti, A'máy Tádits (Hail), (Quechan Citizen), is NABS's new Creative Director. Kenrick comes to NABS from the National Congress of American Indians (NCAI), where he served as their Creative Director. Kenrick has been a professional digital artist for over 20 years serving Indian Country as well as the Federal Government Department of Defense U.S. Army Yuma Proving Ground (YPG), in addition to working as an educator in Arizona. His awards include the National Center for American Indian Enterprise Development (NCAIED) 40 Under 40 award, Teacher of the Year for his work in the Somerton, Arizona School District, and Citations of Appreciation of Service by multiple YPG Command Groups. Kenrick will manage all visual media and creative assets of the organization and support the creation of graphic tools to effectively educate and advocate for boarding school truth and healing.
Lacey Kinnart, Mukwa Ode Quay (Bear Hearted Woman), (Sault Ste. Marie Tribe of Ojibwe), is NABS's new Program and Operations Coordinator. Lacey has worked as an administrator in both Indigenous education organizations and Indian Health Service. She also served as Chairperson for the Milwaukee Indian Education Committee for several years. She joins NABS from the Hannahville Indian School in the Upper Peninsula of Michigan – Anishinaabewaakiing. Lacey's experience will greatly assist NABS in supporting the development and completion of a diverse variety of projects and events, from webinars to our annual conference.
Theresa Sheldon (Tulalip Tribes), is NABS's new Director of Policy and Advocacy. Theresa is a strong advocate for historical justice, civic engagement, and tribal sovereignty. She has 16 years of experience in political advocacy, serving in numerous roles with the Democratic National Committee, EMILY's List, and Tulalip Tribes, while also presiding as the Native American Director for the Biden-Harris Presidential Inaugural Committee. She also received the Enduring Spirit Awardee from Native Action Network in 2017. Theresa is stepping in to support NABS's efforts with the U.S. Truth and Healing Commission Bill at the federal level, and will also further ongoing developments at the tribal, state, and international level.
Deidre Whiteman (Meskwaki, Dakota, Ojibwe, Hidatsa) is the new Director of Research and Education for NABS. Deidre has worked as a NABS research contractor since June 2021. She comes to NABS with 18 years of experience in education, including helping to establish a Dakota and Ojibwe language immersion school in south Minneapolis, working with pre-service teachers at a tribal college, and partnering with youth to pursue higher education. She earned a bachelor's in education from Haskell Indian Nations University, a master's degree from the University of Minnesota, and is pursuing her doctorate degree at the University of South Dakota. Deidre steps in to manage NABS's ongoing research projects, as well as designing educational tools and curricular materials.
"These social justice warriors all come to NABS with a heart and spirit for boarding school healing," said Deborah Parker, CEO of NABS and citizen of the Tulalip Tribes. "Our growing team has immense talents, and we are eager to serve all of our Indigenous relatives during this crucial time for seeking truth and justice."
The new NABS staff members will be directly engaged in our ongoing work advocating for a bill for a Truth and Healing Commission on Indian Boarding School Policies in the U.S. (S. 2907 and H.R. 5444) and conducting outreach to boarding school survivors, descendants, and Tribal leaders. They will also be instrumental in leading research efforts on Indian boarding schools in conjunction with our Memorandum of Understanding with the Department of the Interior for its Federal Indian Boarding School Initiative. In addition to a national conference, the development of new research tools, and other exciting developments that we look forward to sharing this year, NABS continues to work toward widening the circle in this work.
All four new staff members are descendants of boarding school survivors and are citizens of Tribal Nations representing various geographic regions.