Healing Voices is a video project of the National Native American Boarding School Healing Coalition that captures the strength and resiliency of our elders.
Break the Silence, Begin the Healing
It is more important than ever that the world hears the truth from boarding school survivors. And we know that sharing these experiences can be part of healing for many people. That is why now is the time to share these journeys of survival and healing with the world.
The Healing Voices video project brings together boarding school survivors who have graciously shared their journeys of survival and healing, in the hopes that others can find their own path to wholeness and well-being. We gratefully acknowledge all of the boarding school survivors who have shared their knowledge and strength with NABS and we look forward to sharing more of these stories through this video collection.
This project was developed in partnership with so many and we express sincere gratitude to all who contributed. We wish to acknowledge our partners The Tzó-Nah Fund, Missy Whiteman, and HUMAN. 
Visit nabs's youtube page to view more videos
Healing Begins With the Truth
In Canada, prior to the Truth and Reconciliation Commission (TRC), 30% of people knew about the Indian Boarding Schools in that country. After the TRC, 70% knew the truth about the abuses and tragedies which took place in their country's history. In America, we estimate less than 10% know about the US Boarding School Era.
The government and church denominations in Canada brought forth all their boarding school records for the Truth and Reconciliation Commission. In the U.S. we are still seeking records that identify all details about the schools and fate of Native American students taken into federal custody for Boarding School attendance. It's time the U.S. Government fully acknowledge the impact of this country's Boarding School Policy.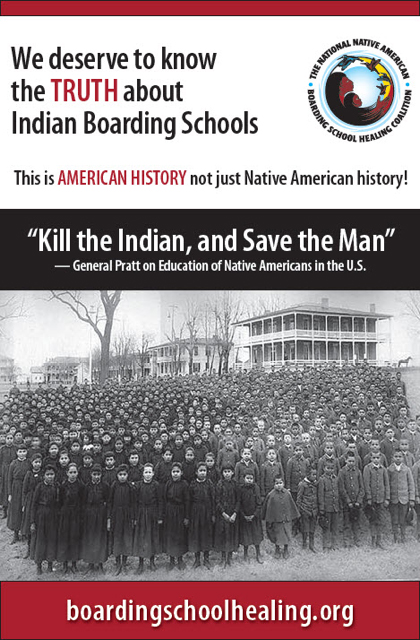 Based on a survey by NABS, Native peoples need acknowledgement from the perpetrators of the Boarding School harms inflicted on our tribal nations. Namely, the Federal Government and the Churches.
98.8% said that the U.S. needs to acknowledge the TRUTH: that Indian children were forcibly abducted, sent hundreds of miles away, beaten, starved, or abused.
96.9% said that the U.S. needs to share the FACTS about how many children were sent to Boarding Schools, how many died at schools, and why there are graves marked "unknown" at many school cemeteries.
91.7% of respondents believe that due to the high incidence of substance abuse and mental health issues resulting from the historical trauma of having attended boarding schools that increased funding of community-oriented healing programs in Indian Country and urban Native populations should be a priority.
Honoring Our Pain: Dedicating time and attention to honoring our pain ensures space for grief, outrage, and sorrow. This caring derives from our interconnectedness with all of life.
–Stone Child College, Montana, Historical Trauma Curriculum