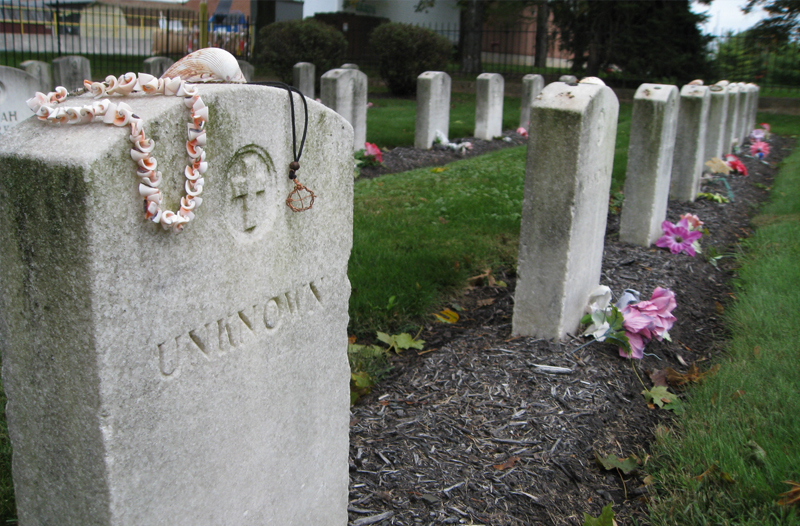 NABS is working to support Tribal Nations seeking the repatriation of their children buried at Carlisle. The Northern Arapaho repatriated two of their lost children, but the third boy couldn't be found. The stakes are high for all involved, including Tribes who do not want their children disturbed. NABS hosted a Tribal Roundtable in November 2017.

The Children Buried at Carlisle
In May 2016 the Northern Arapaho and the Sicangu Lakota met with Army representatives to discuss the repatriation of their children buried at the Carlisle Indian Industrial School cemetery.  The Army agreed to voluntarily send these children home and pay for their exhumation, transport, and internment.
Thus began the first boarding school repatriation effort in U.S. history that we know of.
On August 9, 2017 the Northern Arapaho Tribe began exhumation of their children's remains from the Army War College Cemetery in Carlisle, PA. Of the three children repatriated (Little Chief, Horse, and Little Plume) Little Plume's grave contained two sets of remains, neither of which were his.
The number of unknown graves has now gone from 12 to 14 at the cemetery.
The results of these findings affect all Tribes who have children buried at the Carlisle Cemetery, whether they want to repatriate or not, because this new evidence proves that the graves are not correctly marked and the Army doesn't know for certain which children are buried where (due to the cemetery being moved in 1927 for the installation of a parking lot).
In November 2017, the National Native American Boarding School Healing Coalition hosted a Tribal Roundtable to discuss these issues with tribal representatives.
2019 Update
The Northern Arapaho went back for Little Plume and he was returned home in the summer of 2018. Several other Tribal Nations repatriated children in 2018 as well.
Most recently, the summer of 2019 observed the third repatriation effort at Carlisle involving the return of six more children. The Oneida Nation of Wisconsin welcomed home three relatives, while the Iowa Nation, Modoc Nation, and Omaha Nation each welcomed home one relative during this time.
As of June 2019, the following children have been repatriated from the Carlisle cemetery:
2017 Repatriation
Little Chief (Dickens Nor), Northern Arapaho
Horse (Horace Washington), Northern Arapaho
2018 Repatriation
George Ell (George Eli), Blackfeet Nation
Little Plume (Hayes Vanderbilt Friday), Northern Arapaho
Herbert Little Hawk (Herbert J. Littlehawk), Oglala Lakota
Her Pipe Woman (Dora Brave Bull), Standing Rock
2019 Repatriation
Jemima Metoxen, Oneida Nation
Sophia Coulon, Oneida Nation
Ophelia Powless, Oneida Nation
Henry Jones, Iowa Nation
Adam McCarty, Modoc Nation
Alice Springer, Omaha Nation
2021 Update
A fourth repatriation has been arranged for June 2021, where Rosebud Sioux and Unangax̂ (Aleut) family members have requested the return of their relatives that are currently buried at the Carlisle Barracks Post Cemetery. Those being welcomed home are:
Sophia Tetoff, Unangax̂
Lucy Take the Tail (Pretty Eagle), Rosebud Sioux
Rose Long Face (Little Hawk), Rosebud Sioux
Ernest Knocks Off (White Thunder), Rosebud Sioux
Dennis Strikes First (Blue Tomahawk), Rosebud Sioux
Maud Little Girl (Swift Girl), Rosebud Sioux
Friend Hollow Horn Bear, Rosebud Sioux
Warren Painter (Bear Paints Dirt), Rosebud Sioux
Alvan (Kills Seven Horses), Rosebud Sioux
Dora Her Pipe (Brave Bull), Rosebud Sioux
Many more children are looking to come home, but Tribal Nations are having a difficult time locating relatives to fill out the Army-required affidavits. In some cases the children were orphans when they were sent to Carlisle Indian Industrial School and there is no family to be found.
Prayers for all the families and children looking to be reunited after such a long separation and for the return of the children who never should have been taken or died so far away from home.
NABS continues to advocate for families and Tribes in this process. Feel free to contact us if you have any questions.
_______________________
Sources:
https://www.inquirer.com/news/oneida-reservation-reburial-carlisle-school-army-war-college-20190922.html
https://cumberlink.com/news/local/history/remains-of-six-students-to-be-disinterred-at-carlisle-post/article_ded81c80-2a37-5ba0-af15-39d71fd2892e.html
https://www.federalregister.gov/documents/2021/04/02/2021-06784/notice-of-intended-disinterment