A COMPREHENSIVE STUDY ON CHILD REMOVAL IN NATIVE COMMUNITIES
The National Native American Boarding School Healing Coalition, First Nations Repatriation Institute, and the University of Minnesota are conducting an anonymous survey to learn more about American Indian and Alaskan Native experiences and impacts of child removal related to the United States' federal Indian boarding school policy.   
The trauma of family and community separation as well as the violently assimilative strategies of boarding schools and adoption affected hundreds of thousands of children, their families, and their communities so deeply that the effects of trauma can be seen intergenerationally.
This first of its kind study, Child Removal in Native Communities: An Anonymous Survey, aims to learn more about:
The

correlation

between Indian boarding schools, adoption, and foster care in later generations,

The

intergenerational impacts

of child removal on behavioral, mental, and physical health, as well as parenting and child welfare, and

How American Indian and Alaskan Native people are

healing

from historical and intergenerational trauma related to child removal.
If you are a boarding school survivor, have boarding school history in your family, or have you ever been adopted or placed in foster care, we need your help! You can take the survey now at: z.umn.edu/child-removal-study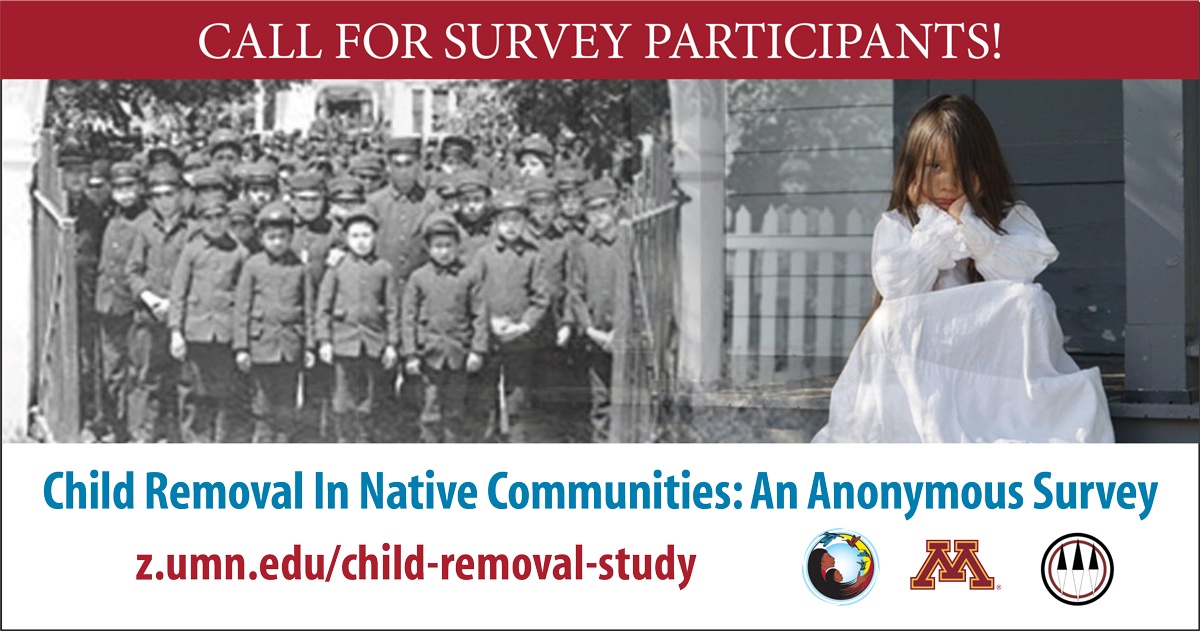 NABS's mission is to understand and address the ongoing trauma caused by Indian boarding schools. The study will be an important part of our efforts to learn more about how boarding schools impacted rates of adoption and foster care in our communities and how these instances of child removal impacted health and well-being. The data we collect will be an important part of our efforts to spark a national conversation on these issues and cultivate opportunities for healing. It will help us continue to inform policy reform, best practices in social work and healthcare fields, and community-led healing initiatives.
The survey asks some personal questions about your life experiences, but it is completely anonymous and does not collect any identifying information (such as your name, address, or email address).  It will take an average of 30 minutes of your time, and your participation will benefit boarding school survivors/descendants and adoptees/formerly fostered individuals, their families, and Native communities for generations to come!
If you have any questions about the study before you begin, please contact members of our research team at info@nabshc.org or liebler@umn.edu. You may also contact us to request a paper copy of the survey. If you are interested in receiving copies of research reports that come from this study, please let us know.
Take the survey now at z.umn.edu/child-removal-study and help us share this study with your community!