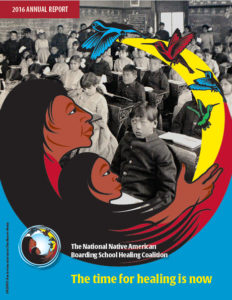 With the state of the world today and the ongoing struggle for human rights, we need now –more than ever– to educate ourselves and others on the realities of our humanity. There is no longer the option of denying the genocide that this country was founded on. The time for truth and healing is now.
The NABS Healing Coalition is proud to share with you NABS' Inaugural Annual Report. We have accomplished a great deal in our first year as an independent organization and want to take a moment to thank you all for your helping us make this mission a reality.
Going forward, we know we will have an uphill battle getting the U.S. to acknowledge their humanitarian crimes of the Boarding School era
However, we knew from the start it wasn't going to be easy.
We are committed, now all the more, to educating those responsible for the Boarding School abuses and to supporting our healing of these inter-generational traumas.
If you would like to see more of this work in the coming year, you can donate online or join the Coalition. In addition, please help us raise awareness of our mission by sharing with your family and friends.
Chi Miigwech! (Many Thanks!)
Christine McCleave
Turtle Mountain Ojibwe
Executive Officer