In August 2023, NABS released its latest research identifying 523 Indian boarding schools in the United States. This three-year project resulted in the largest known list of U.S. Indian boarding schools ever compiled to date.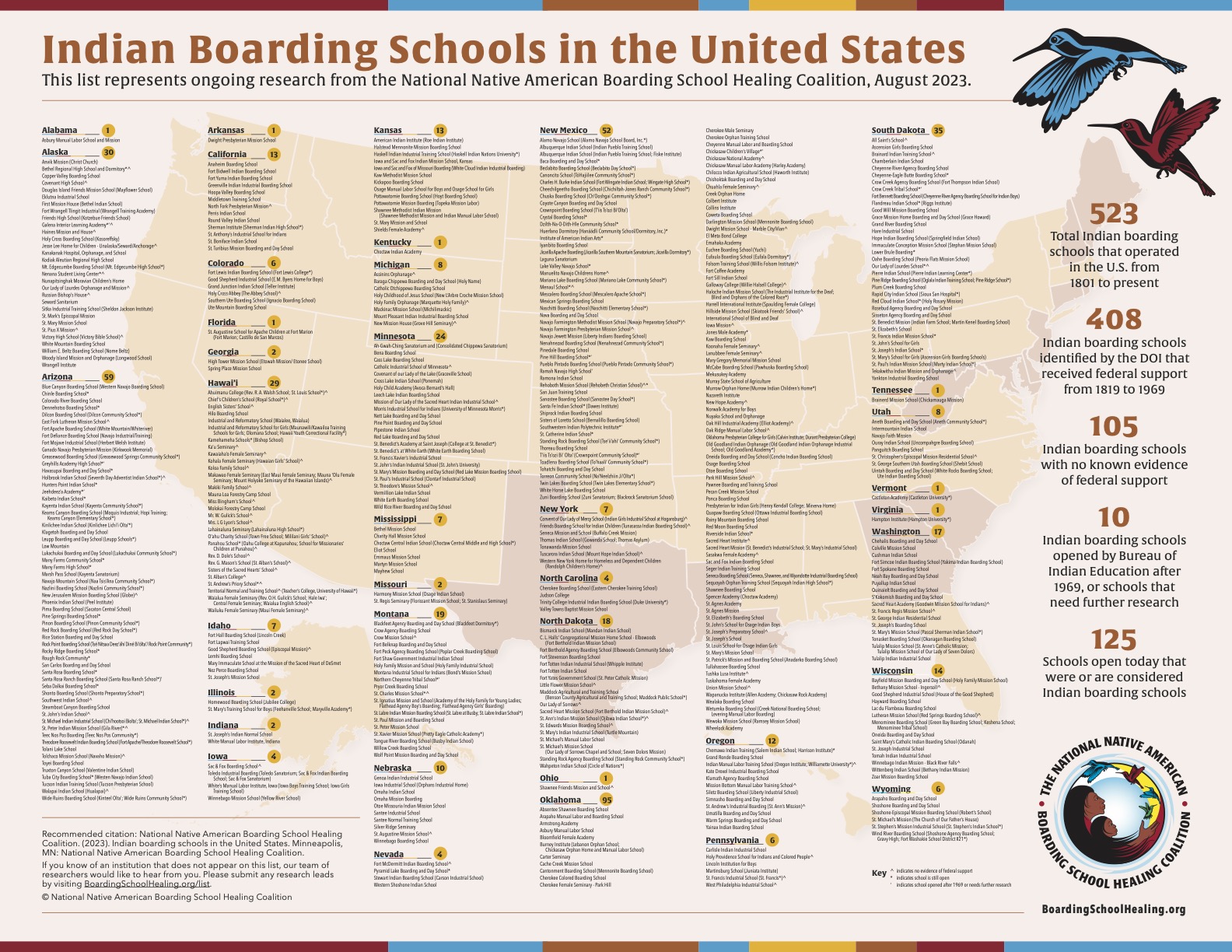 Total Indian boarding schools that operated in the U.S. from 1801 to present
Indian boarding schools identified by the DOI that received federal support from 1819 to 1969
Indian boarding schools with no known evidence of federal support
Indian boarding schools opened by Bureau of Indian Education after 1969, or schools that need further research
Schools open today that were or are considered Indian boarding schools
U.S. states where Indian boarding schools operated
The history of Indian boarding schools has been under-researched to the extent that limited efforts have comprehensively looked into the full accounting of both government- and religious-operated institutions established in the United States. Researchers, educators, and policymakers have all requested access to up-to-date information, but have had to make due with what is available. 
In 2020, NABS released a list of 367 Indian boarding schools, which at the time was the largest and most extensive list available to the public. Since then, there have been various efforts by the Department of the Interior (DOI) and religious institutions to identify their involvement in the establishment and operation of Indian boarding schools nationwide. In May 2022, building off of NABS's research, the DOI identified 408 schools in volume one of its Federal Indian Boarding School Initiative Investigative Report. In May 2023, a list of 87 Catholic-operated schools was released to the public. 
With these coinciding efforts, NABS was able to cross-check its research to establish its most current list of 523 schools. Because of persistent gaps in research, and the lack of funding toward Indian boarding school efforts, NABS sees this research as ongoing and expects the number of schools to rise as more information comes to light. 
NABS believes the number of Indian boarding schools will continue to rise as more information becomes available. If you know of a school that isn't on this list, our team of researchers would like to hear from you. Please submit any research leads by completing the form below.