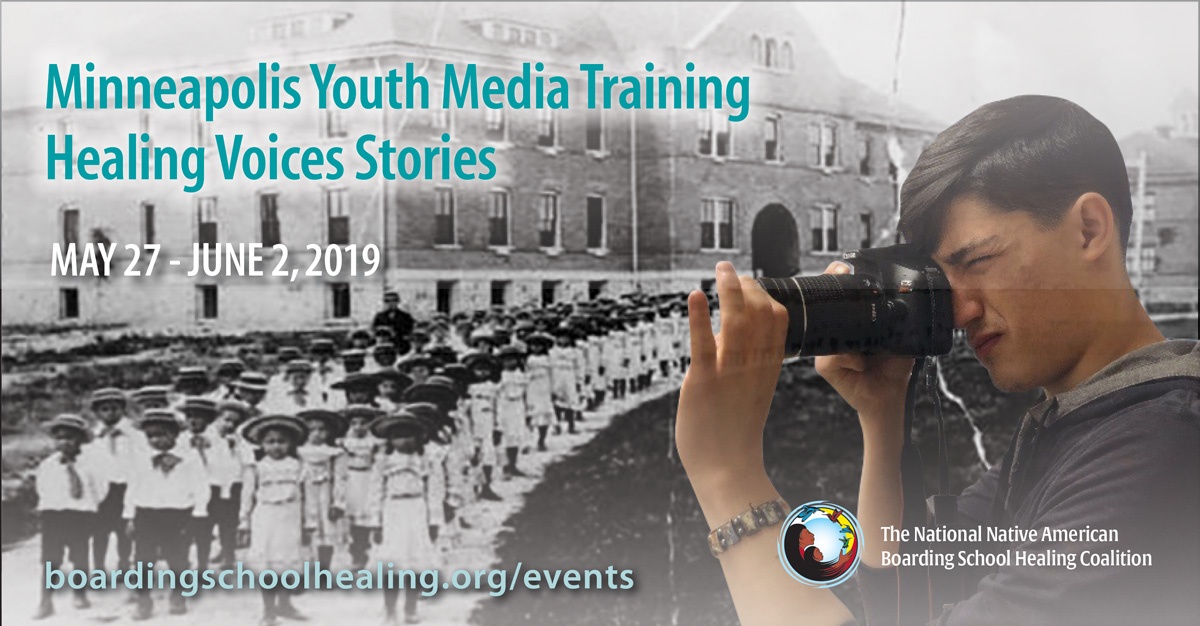 Join the NABS and Independent Indigenous Film and Media for a free week-long video production workshop in Minneapolis, MN.
The Healing Voices story collection is about highlighting stories of healing, resiliency, and hope while connecting youth to the elders in their community around their boarding school experiences. NABS and IIFM will host a free seven-day video production workshop on the following dates:
• Monday, May 27 (Memorial Day)—10 a.m. to 3 p.m.
• Tuesday-Friday, May 28-31—4:30 p.m. to 7 p.m.
• Saturday-Sunday, June 1-2—10 a.m. to 3 p.m.
Independent Filmmaker, Missy Whiteman (Arapaho and Kickapoo) and NABS Executive, Christine Diindiisi McCleave (Ojibwe), are inviting 20 Native youth (ages 12-24) to participate in creating a passionate film/video about boarding school healing in the Twin Cities. The videos created will be part of the Healing Voices Story Collection sponsored by the National Native American Boarding School Healing Coalition.
Youth will learn about media/film production, editing, and boarding school history and impacts. Youth will create and film their own healing stories about boarding schools and intergenerational trauma, edit the video(s), and be able to screen (view) the video(s) at the end of the training.
Please fill out your registration application, answering all the questions about why you want to be part of this training program, and we'll notify those selected to take part in the training via email.
Register here: Healing Voices Minneapolis 
Deadline to register is Wednesday, May 22, 2019.
All youth who successfully complete videos will receive a $50 Visa gift card! Only 20 youth will be selected to participate. Thank you!
If you are an elder boarding school survivor who wants to share their healing story, please contact [email protected]. Miigwich & Pilamaya!