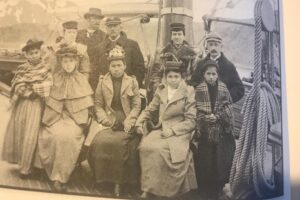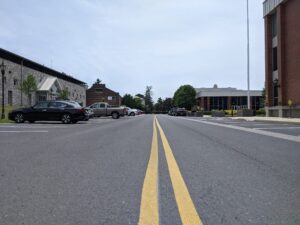 Sophia Tetoff, an Unangan (Aleut) girl, was 12 years old when she was brought to the Carlisle Indian Industrial School from St. Paul Island, Alaska. Her life taken at the age of 17 due to tuberculosis, she was buried in Carlisle's original cemetery in 1906. Along with many other students, her remains were moved in 1927 to where the current cemetery lies in order to make way for building projects conducted by the U.S. Army. A road and parking lot now unceremoniously mark the previous burial grounds, unbeknown to most passing by. Though having spent nearly 120 years at Carlisle, Sophia has returned home to St. Paul, Alaska, and was laid to rest just last week on July 9th, 2021, where she was welcomed by relatives with a full Russian Orthodox mass and much singing in Unangam Tunuu (Aleut). Her journey is a remarkable one—reminding us that the return of even one child whose life was stolen by the U.S. Indian boarding school policy, holds immense possibilities for healing.
Nearly 200 children were buried at Carlisle Indian Industrial Boarding School under the U.S. government's policy to assimilate American Indian, Alaska Native, and Native Hawaiian children. Carlisle founder Richard H. Pratt's motto to "kill the Indian, save the man" fundamentally influenced the framework of what would ultimately become a system of 367 Indian boarding schools in the U.S. Under this system, children were stolen from their families and homes, their hair was cut, they were prohibited from speaking their language, and were punished for practicing traditional lifeways. This approach resulted in systematic cultural genocide, including ongoing impacts of intergenerational trauma. For Sophia, like so many others whose lives were taken too soon, entire generations were stolen, deprived of the opportunity to bear children and continue growing roots for her family, community, and Tribal Nation. Sophia's return home not only offers her rest and reprieve in the place where she was born and knew home, but her repatriation offers healing and hope to her home community that never forgot about her.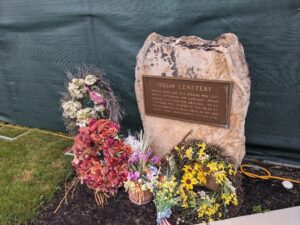 The Army barracks at Carlisle, which house the remains of these stolen children, is now the Army War College, and started to return these children at the request of Tribal Nations in 2017. That same year, NABS hosted a round table discussion where all 59 tribes whose children had been buried in the Carlisle Cemetery were invited to hear from the Northern Arapaho who were the first to repatriate their children from Carlisle. The roundtable also offered the opportunity to learn about the process that the Army had put into place in order to facilitate the return of their children and discussion of the Native American Graves Protection and Repatriation Act (NAGPRA) and its applicability. Since 2017, many who attended the roundtable have been on their journeys for repatriation of their children. In 2018, the Blackfeet Nation, Oglala Sioux Tribe, and Standing Rock Sioux Tribe repatriated children. In 2019, the Oneida Nation and Modoc Nation repatriated children from Carlisle. And this summer, in addition to Sophia's return, members of the Sicangu Lakota (Rosebud Sioux Tribe) will bring home 9 of their children. This brings the total to twenty-one children who will finally be able to rest in their homelands. You can read the names of the children and learn more about the past repatriations from Carlisle here. We know that more families and Tribal Nations will come to bring their children home from Carlisle, but that not all want their relatives to be disturbed or moved. Of the 367 Indian Boarding Schools that we have identified in the U.S., we know that many of them have cemeteries, and we will continue to advocate for and support those Tribal Nations that wish to see their children returned and/or protected.
Sophia was welcomed home by her great niece, Lauren Peters—an enrolled Agdaagux tribal citizen of the Unangax (Aleut) Nation—along with other family members. Having led the process of working with the Army and the Department of Defense to facilitate the disinterment and return of her great aunt, Lauren invited NABS to accompany her, to offer support, share space, and to assist in navigating the many complex processes of the Army throughout this time. (You can hear more from Lauren in NABS's webinar on Indian Boarding School Cemeteries and Missing Children.) We journeyed to Carlisle for the exhumation of Sophia and were deeply honored to support Lauren, her family, and nation, by sharing our medicine, songs, prayers, and solidarity during this challenging yet healing moment. We have been profoundly impacted by this time of ceremony and those children—still far from home—that we sat and prayed with. Demonstrating incredible courage and fortitude throughout this entire process, Lauren left us with an inspiring message by sharing that Sophia, despite her short life, continues to demonstrate remarkable leadership by being the first Alaska Native to be returned from Carlisle. On the day I left Carlisle, Lauren promised me that she would be coming back for those relatives still buried in the Carlisle cemetery. In that way, Sophia Tetoff will continue to offer pathways toward healing for her relatives. Similarly, NABS will continue to work with families and Tribal Nations to support, document, and advocate for these children. With the discovery of so many unmarked graves in the U.S. and Canada at these assimilative schools, we know it is time to #BringOurChildrenHome.
Samuel B. Torres, Ed.D (Mexica/Nahua)
Director of Research and Programs
(Bio)