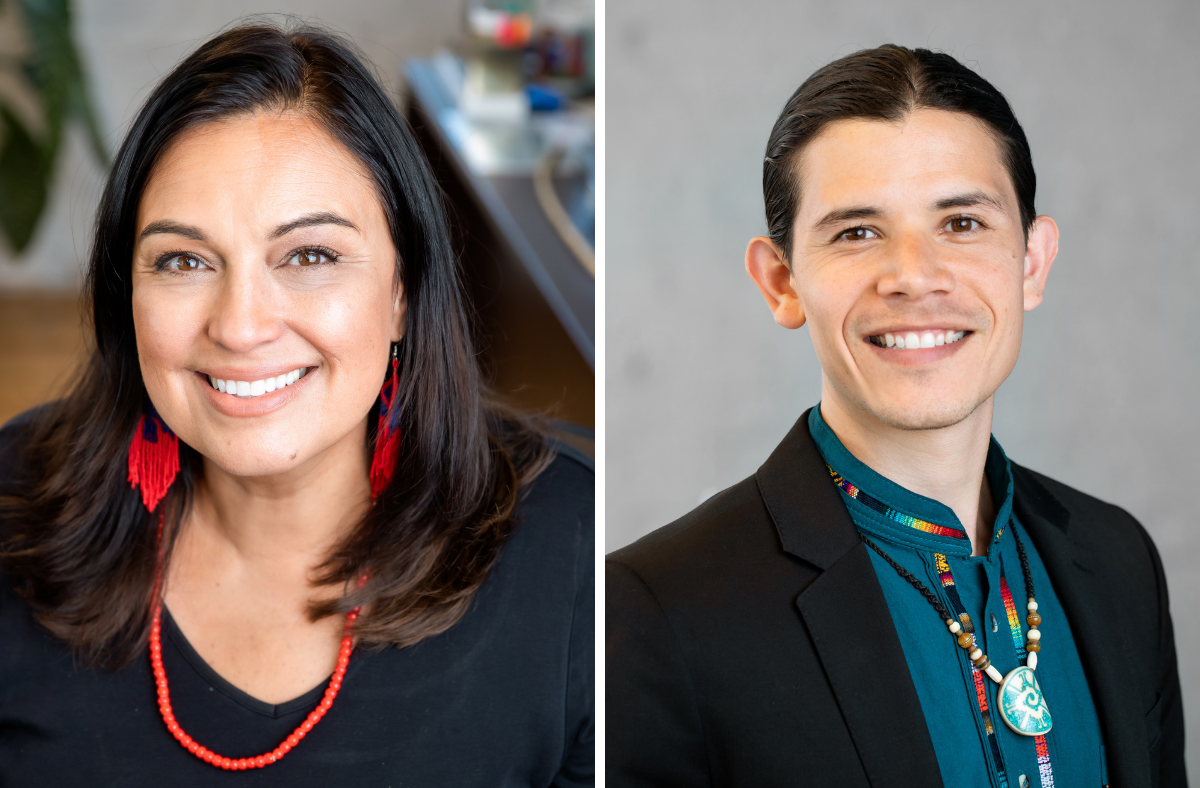 Dear Relatives,
Sharing warm greetings and a blessed new year to you all. On behalf of the Board of Directors for the National Native American Boarding School Healing Coalition (NABS), I am extremely thrilled to announce the appointment of Deborah Parker (Tulalip Tribes) to the position of Chief Executive Officer and Samuel Torres, Ed.D. (Mexica/Nahua) to the position of Deputy Chief Executive Officer. These accomplished Indigenous leaders are key members of the NABS staff and are uniquely positioned and qualified to advance NABS's mission on a national scale. This is a truly exciting time to reaffirm our commitment to boarding school survivors and descendants for truth, justice, and healing.
Deborah Parker joined NABS as the Director of Policy and Advocacy in May of 2021 and had previously served to coordinate our 2019 2nd Annual Conference and helped organize the "We Love You" Elders care packages for U.S. boarding school survivors and descendants. Deborah holds over 25 years of national and international legislative, policy, and advocacy experience. She served as the Vice Chair of the Tulalip Tribes and was the Executive Director of Residential School Healing in British Columbia, Canada. Deborah has also served as Government Affairs Senior Policy Analyst for the Tulalip Tribes and was the Director of Equity, Diversity, and Indigenous education in the Marysville school district in Washington. Deborah has been instrumental in passing state and federal legislation, including the Violence Against Women Act in 2013. She has been leading NABS's work in collaboration with the Department of the Interior's Federal Indian Boarding School Initiative and advocating for a federal bill for a Congressional Commission on U.S. Indian boarding schools—introduced as H.R. 5444 and S.2907 in September 2021. With her years of experience in uplifting Native people, we know that Deborah will provide crucial leadership in the movement for boarding school healing.
Dr. Samuel Torres has been a fundamental part of NABS's team since 2019, when he joined our organization as the Director of Research and Programs. Samuel has a doctorate in Educational Leadership for Social Justice from Loyola Marymount University and his work encompasses the impacts of colonization on historical and contemporary education methods, particularly the legacy of boarding schools. With his extensive experience as a researcher, writer, educator, and leader, Samuel holds a deep passion for decolonizing knowledge systems and centering ancestral knowledge and histories. Dr. Torres is making significant contributions to the boarding school healing movement leading teams of researchers to ensure the telling of the true history of boarding schools in the U.S. and uplifting the voices of survivors and descendants. Dr. Torres' leadership will be critical as we continue to educate and raise awareness.
As we transition from 2021 and look ahead to all that 2022 will bring, we recognize with gratitude all those who contributed to this milestone year for U.S. Indian boarding school awareness and healing. We extend our appreciation to Christine Diindiisi McCleave for her years of service and wish her well in her next endeavors.
Moving forward, I see this as a truly transformative time in the healing movement for boarding school survivors and descendants. We are inspired by our new executive leadership and incredible staff to bring about truth, justice, and healing, and look forward to engaging and being in community with you on this journey.
Warmly,
Sandra White Hawk
President, Board of Directors